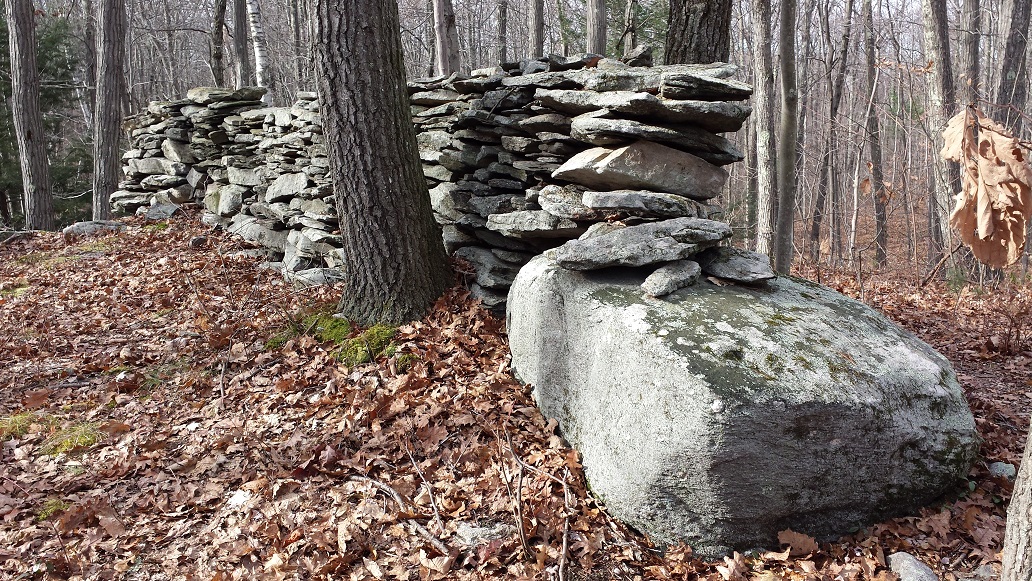 What does NEARA do?
Observant visitors to America's northeastern forests have long encountered various stone structures. These include stone chambers, stone piles, unusual stone walls and circles, propped boulders, petroglyphs and stone or earthen mounds. NEARA was founded in 1964 to promote research into the origins and functions of these structures and sites, to document them and encourage their protection and preservation. Volunteers participate in the search for new sites and enjoy the challenge of better understanding them through the lenses of history, archaeology, anthropology and geology, as well as fields such as archaeoastronomy, deed research, and epigraphy.
Our semiannual meetings provide an opportunity for sharing research on a wide array of subjects, from the early peopling of the Americas, diffusion of cultural features across oceans in antiquity, Native American traditions, to the colonial period. Mythology, astronomy, comparative religion, agricultural practices, landscape studies and remote sensing are all areas we have explored. Our meetings and publications offer a forum for studying these diverse subjects, in an effort to better understand our region and its global context.
Sign up for announcements of news and other interesting information: Join Our Email List
---
Newport Tower 3D LiDAR Scan
Tom Elmore shares his video about NEARA's project to make a 3D LiDAR scan of Newport Tower.
---
Triad of Technologies Webinar
We had a wonderful webinar on using relatively new technologies together for recording, preserving, and exploring sites:
hand-held color LiDAR producing 3D point clouds (Tom Elmore, at Manitou Hassannash Preserve)
georeferencing that point cloud and importing it into a GIS application (Eva Gibavic, using ArcGIS)
eventually using a 3D model with astronomy software for archeaoastronomy (Dave Gutkowski, at Council Rocks, using Stellarium)
The webinar happened on Friday 19 March 2021, but you can watch the recorded session at: Triad of Technologies video.
---
Jim Wilson on Constructed Stone Landscapes in Pennsylvania
Jim Wilson made a great presentation to the Watershed Coalition of the Lehigh Valley. You can view it on Facebook at: The Mysteries of Constructed Stone Landscapes.
Jim Wilson adds: "I would like to correct an error in my presentation. It was local avocational archeologist Ed Henning who was the champion of, and deserves the credit for the recording of the Pocono Creek Watershed CSL in Monroe County with the PA State Historic Preservation Office. I mistakenly cited Ed Lenik in my talk. My apologies to Mr. Henning for that misattribution."
---
Current NEARA Transit
If you are a member on our email list, you should have received a copy of this issue by email.

---
CANCELLED: NEARA Spring 2021 Conference
Due to the continuing COVID-19 pandemic, the Board of Directors has decided to cancel the spring conference. We are hopeful about holding the Fall 2021 Conference at Camp Wightman in North Stonington CT.
Read more about NEARA Conferences.
---
Looking for nice photos
Want to contribute photos for our Gallery? Send us a few really good photos that you have taken. Email them to membership@neara.org. Please include a short caption, including the county and state in which you took the photo, the date you took the photo, and the name you would like to include in the caption.
---
Research at New Hampshire Sites
The Research Committee and the New Hampshire State Archaeologist are conducting excavations at sites in New Hampshire. The sites in Hillsborough and Deerfield each have a variety of interesting stone structures. We have performed both sedimentary OSL dating and rock surface OSL dating at these sites. Some laboratory analysis will happen soon, but results may depend on waiting a year to get better dosimeter readings from where the samples were taken in the ground.
---
Update on NEARA's OSL Dating Project
NEARA is conducting an ambitious project to use OSL dating at many well-known sites throughout the Northeast. Read about it at OSL dating project.
---
The NEARA Library
You can't attend the Spring Conference. Are you looking for things to do instead? Consider the NEARA Library. You can now visit us online! Our catalog is online at NEARA Library. To borrow a book or video you must be a current member of NEARA.
With the move of the Library to its new location, we have been finding a lot of duplicate books that the Library cannot really afford to keep any more. These books are now for sale. See the complete list at NEARA Library books for sale. Note: this list is changing, so you may want to come back every week.
If you are a member of NEARA, you can see photos and some archived documents and photos at SiteDB.org. See how sites and people(!) looked like back in the 1960's - 1980's. Also, as a member of NEARA, you can read all of the Journals and Transits that NEARA has ever published.
Read more about the NEARA Library and Archives.
---
Election Results
For the Director-at-Large positions, the results are as follows:
David Brody: 97, Derek Gunn: 96, Jim Haskins: 96, Tom Paul: 96
The votes for the Bylaws Change (to permit electronic voting) were:
YES: 87, NO: 7
See the updated Bylaws PDF file at NEARA Bylaws 2020.
---
Current NEARA Journal
NEARA members can receive the latest NEARA Journals and NEARA Transit newsletters electronically or in printed form.