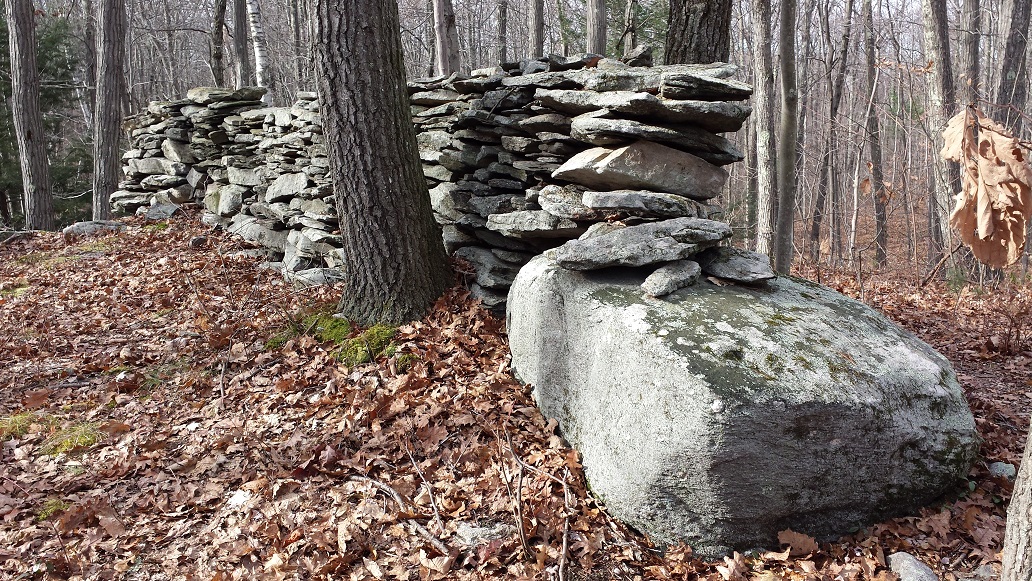 What does NEARA do?
Observant visitors to America's northeastern forests have long encountered various stone structures. These include stone chambers, stone piles, unusual stone walls and circles, propped boulders, petroglyphs and stone or earthen mounds. NEARA was founded in 1964 to promote research into the origins and functions of these structures and sites, to document them and encourage their protection and preservation. Volunteers participate in the search for new sites and enjoy the challenge of better understanding them through the lenses of history, archaeology, anthropology and geology, as well as fields such as archaeoastronomy, deed research, and epigraphy.
Our semiannual meetings provide an opportunity for sharing research on a wide array of subjects, from the early peopling of the Americas, diffusion of cultural features across oceans in antiquity, Native American traditions, to the colonial period. Mythology, astronomy, comparative religion, agricultural practices, landscape studies and remote sensing are all areas we have explored. Our meetings and publications offer a forum for studying these diverse subjects, in an effort to better understand our region and its global context.
Sign up for announcements of news and other interesting information: Join Our Email List
---
NEARA Fall 2021 Conference
The NEARA Board of Directors has decided to hold the fall conference virtually, via Zoom. It will be held most of the day on Saturday 6 November 2021. The event will be FREE for NEARA members, and you get to save on travel, food, and lodging. The scheduled speakers include:
Harvey Buford, OSL Dating Project Update
Dave Gutkowski & Tom Elmore, Converging Lines of Evidence on Council Rock Mountain
Mary Ellen Lepionka, Cape Ann
Terry Deveau, Dolmens Around the World
Glenn Kreisberg, Archeoastronomy in the Catskills
David Brody, Northeast Explorations Before Columbus
Adam Arkfeld, A Virginia Pre-Columbian Archaeological Site
To register for the conference, please fill out the form at the Zoom webinar registration page.
Although the conference will be virtual, there will also be a physical component to it -- field trips! Participating in field trips requires NEARA membership. Currently we know that there will be field trips on Sunday November 7th in:
New London County, Connecticut
Merrimack County, New Hampshire
Ulster County, New York
Putnam County, New York
Washington County, Rhode Island
Details will be announced during the webinar on Saturday November 6th.
Read more about NEARA Conferences.
---
The NEARA Library is Open again!
NEW: we have added a page that describes our BOOK and MAGAZINE and MAP SALE.
We are pleased to announce that we are entertaining visitors again to the NEARA Library and Archives in Nashua NH.
But you can still visit us online. Our online catalog is at NEARA Library. To borrow a book or video you must be a current member of NEARA.
With the move of the Library to its new location, we have been finding a lot of duplicate books that the Library cannot really afford to keep any more. See the complete list at NEARA Library books for sale. Note: this list is changing, so you may want to come back every week. You do not need to be a member of NEARA to purchase books.
If you are a member of NEARA, you can see photos and some archived documents and photos at SiteDB.org. See how sites and people(!) looked like back in the 1960's - 1980's. Also, as a member of NEARA, you can read all of the Journals and Transits that NEARA has ever published.
Read more about the NEARA Library and Archives.
---
Research at New Hampshire Sites
The Research Committee and the New Hampshire State Archaeologist are conducting excavations at sites in New Hampshire. The sites in Hillsborough and Deerfield each have a variety of interesting stone structures. We have performed both sedimentary OSL dating and rock surface OSL dating at these sites. Some laboratory analysis will happen soon, but results may depend on waiting a year to get better dosimeter readings from where the samples were taken in the ground.
There is an article about the research in the April 2021 Transit.
---
Election Results
The vote was primarily conducted electronically. However, there were 13 paper ballots that were mailed to members.
For President, the results were: Harvey Buford: 128 (electronic: 122, paper: 6)
For 2nd VicePresident, the results were: Terry Deveau: 130 (electronic: 124, paper: 6)
For Secretary, the results were: Teresa Bierce: 131 (electronic: 125, paper: 6)
For the four open Director-at-Large positions, the results were as follows:
Tom Elmore: 130 (electronic: 124, paper: 6)
Fred Martin: 131 (electronic: 125, paper: 6)
Lee Shoemaker: 128 (electronic: 122, paper: 6)
Vance Tiede: 125 (electronic: 119, paper: 6)
The proposed Bylaws Changes to create the Preservation Committee PASSED.
The votes were: YES: 101 (electronic: 95, paper: 6), NO: 4 (electronic: 4, paper: 0)
See the updated Bylaws PDF file at NEARA Bylaws 2021.
---
Current NEARA Transit
This issue of NEARA's newsletter includes these articles:
Stone Ridge Solar Energy Project -- Harvey Buford
President's Notes -- Harvey Buford
In Westchester County, New York -- Rob Buchanan
Pennsylvania -- Dave Gutkowski
In Exeter, Rhode Island -- Harvey Buford
In New Salem, Massachusetts -- Sarah Kohler
In Connecticut -- Chris Loughlin
Membership -- Teresa Bierce
Luminescence Testing Project in New Hampshire -- Walter van Roggen
Hand-held 3D LiDAR at Manitou Hassannash Preserve -- Walter van Roggen
Hartman Park -- Mark Starr
If you are a member on our email list, you have already received a copy of this issue by email.

---
Current NEARA Journal
This issue of NEARA's journal includes these articles:
Cultural Heritage in the Path of the Dakota Access Pipeline: An interview with Tim Mentz Sr. (Part 1) -- Peter Anick and Sydney Blackwell
A Winter Solstice Sunrise Site in Boxborough Massachusetts -- George Krusen
Photo Tour of Sudbury Valley Trustees' Half Moon Meadow -- Peter Anick and Sydney Blackwell
A History of the Paul B. Follansbee Rockery (aka "Turtle Mound") in Andover Massachusetts -- James Gage
Seeing Cave Art in a new Light: Open-Air Imagery from the Ice Age -- Peter Anick
Book Reviews:

Archaeological Oddities, a Field Guide, by Kenneth L. Feder
Stone Prayers: Native American Stone Constructions, by Curtiss Hoffman
The Year 1000: When Explorers Connected the World, by Valerie Hansen

Farewells: Norman Biggart, William Penhallow, Donn Thomas Stangohr, Roslyn Strong
Celebrations: Steve Voluckas and Judith Martinez
NEARA members can receive the latest NEARA Journals and NEARA Transit newsletters electronically or in printed form.
---
Newport Tower 3D LiDAR Scan
Tom Elmore shares his video about NEARA's project to make a 3D LiDAR scan of Newport Tower.
---
Triad of Technologies Webinar
We had a wonderful webinar on using relatively new technologies together for recording, preserving, and exploring sites:
hand-held color LiDAR producing 3D point clouds (Tom Elmore, at Manitou Hassannash Preserve)
georeferencing that point cloud and importing it into a GIS application (Eva Gibavic, using ArcGIS)
eventually using a 3D model with astronomy software for archeaoastronomy (Dave Gutkowski, at Council Rocks, using Stellarium)
The webinar happened on Friday 19 March 2021, but you can watch the recorded session at: Triad of Technologies video.
---
Jim Wilson on Constructed Stone Landscapes in Pennsylvania
Jim Wilson made a great presentation to the Watershed Coalition of the Lehigh Valley. You can view it on Facebook at: The Mysteries of Constructed Stone Landscapes.
Jim Wilson adds: "I would like to correct an error in my presentation. It was local avocational archeologist Ed Henning who was the champion of, and deserves the credit for the recording of the Pocono Creek Watershed CSL in Monroe County with the PA State Historic Preservation Office. I mistakenly cited Ed Lenik in my talk. My apologies to Mr. Henning for that misattribution."
---
Looking for nice photos
Want to contribute photos for our Gallery? Send us a few really good photos that you have taken. Email them to membership@neara.org. Please include a short caption, including the county and state in which you took the photo, the date you took the photo, and the name you would like to include in the caption.
---
Donations
NEARA has joined PayPal's Giving Fund so that any money that you donate to NEARA will get to us without any fees subtracted.
Please help us fund our research projects and preservation efforts and library and archives at: NEARA's PayPal Giving Fund