The Classical World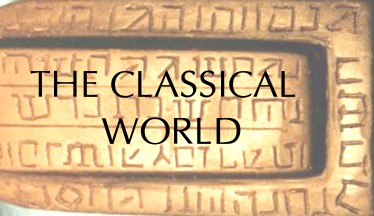 Among the first to test the icy boreal waters of the North Atlantic was the astronomer, Pytheas of Marseilles, who ventured to Ultima Thule and witnessed the sea turning into "thick gray sludge". Roman merchants no doubt ventured into the North Atlantic, but only Tacitus left an account of Agricola's men subduing the Orkneys. Caesar commented on the construction and seaworthiness of Gaelic ships.
THE LITTLE "ROMAN" HEAD OF CALIXTLAHUAJA, MEXICO: SOME REFLECTIONS
Romeo H. Hristov
This paper reexamines one of the few trustworthy ar­chaeological findings that supports the thesis of previous contacts between the Old and New Worlds. Today in the ceramics hall of the National Museum of Archaeology in Mexico City is displayed a little terra cotta human head with apparently non-Amerindian features.
Read the full article (PDF): LITTLE ROMAN HEAD by Romeo H. Hristov, NEARA Journal, Vol.28 No.3/4 Winter/Spring 1994
ICELAND'S GEOGRAPHICAL HISTORY: CONCEPTS OF ICELAND ITS NATURAL HISTORY AND RESEARCH BEFORE AND AFTER SETTLEMENT
Thorvaldur Thoroddsen, PUBLISHED IN ICELANDIC BY THE LITERARY SOCIETY, REYKJAVIK, 1892 TRANSLATION BY SUZANNE CARLSON
While surfing Google digital books or works in Icelandic, I stumbled on this book on the geo­graphical history of Iceland. The title of the first chapter intrigued me, "History of Iceland before Settlement, the Account of Pytheas." The author, Thorvaldur Thoroddsen, was a late nineteenth cen­tury geologist who presented a review of geography woven seamlessly into the history of Iceland, begin­ning with an analysis of the mystical island of Thule in the unknown reaches of the northern sea. I hope you enjoy this northern voyage to the mare congela­turn, which throbs like a "sea lung."
CHAPTER I [EXCERPT]. HISTORY OF ICELAND BE­FORE SETTLEMENT: THE ACCOUNT OF PYTHEAS
Few thought it likely that any people could have in­habited Iceland before the Irish in the eighth century, nor had they found man-made evidence or confirma­tion of earlier human contact. Throughout Europe and America, evidence has been found of Neolithic people in earlier cultural levels. Whether on islands or else­where, research certainly shows that savages had lived in Northern Europe, Iceland had, no doubt, been severed from the continent long before Northern Europe had been settled by human clans during the Stone Age and long after. Using small boats poorly suited for the open ocean, they were not able to endure heavy seas; they followed the coasts, and did not risk the open ocean. Later, even the Phoenicians were lost if they could not see land, and dared not venture far from the coast.
Read the full article (PDF): ICELAND'S GEOGRAPHICAL HISTORY Translation by Suzanne Carlson, NEARA Journal Vol.45 No.1 Summer 2011