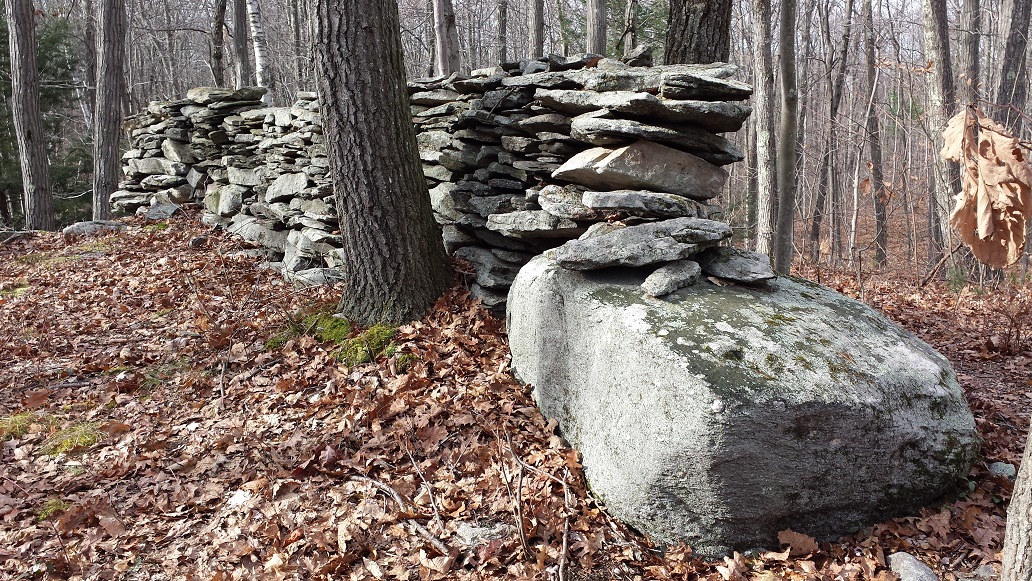 What does NEARA do?
Observant visitors to America's northeastern forests have long encountered various stone structures. These include rock piles, stone chambers, unusual stone walls and circles, propped boulders, standing stones, petroglyphs, and stone or earthen mounds. NEARA was founded in 1964 to promote research into the origins and functions of these structures and sites, to document them and encourage their protection and preservation. Volunteers participate in the search for new sites and enjoy the challenge of better understanding them through the lenses of history, archaeology, anthropology and geology, as well as fields such as archaeoastronomy, deed research, and epigraphy.
Our semiannual meetings provide an opportunity for sharing research on a wide array of subjects, from the early peopling of the Americas, diffusion of cultural features across oceans in antiquity, Native American traditions, to the colonial period. Mythology, astronomy, comparative religion, agricultural practices, landscape studies and remote sensing are all areas we have explored. Our meetings and publications offer a forum for studying these diverse subjects, in an effort to better understand our region and its global context.
Sign up for announcements of news and other interesting information: Join Our Email List
---
NEARA Spring 2024: the Eclipse Conference
The spring conference is scheduled to take place in East Burke Vermont from April 6th to April 8th. NOTE: the schedule is Saturday - Monday, not the usual Friday - Sunday.
The theme will be "Altars of the Sun & Moon". More details are on the 2024 Eclipse Conference page, and more will appear there as they are announced.
---
NEARA wants you!
Have you been active in NEARA for a while and are interested in becoming more involved in the organization?
We are looking for someone to maintain a calendar of interesting events for the NEARA membership. All you need to be able to do is keep a Google Calendar up-to-date with announcements of on-line or in-person presentations that are happening on Zoom or at locations around the northeast.
The calendar is at NEARA Calendar.
---
Fall 2023 Conference
The fall conference took place from November 10th to November 12th, at the Courtyard by Marriott in Marlborough Massachusetts. The theme was "NEARA's Research: Past, Present, and Future". Topics involved archaeology, OSL dating, archaeoastronomy, and historical research. The keynote speakers were Kimberly Toney, Member of the Hassanamisco Band of Nipmuc and Andre StrongBearHeart Gaines, Jr., Citizen of the Nipmuc People. More information will be posted at the 2023 Fall Conference page.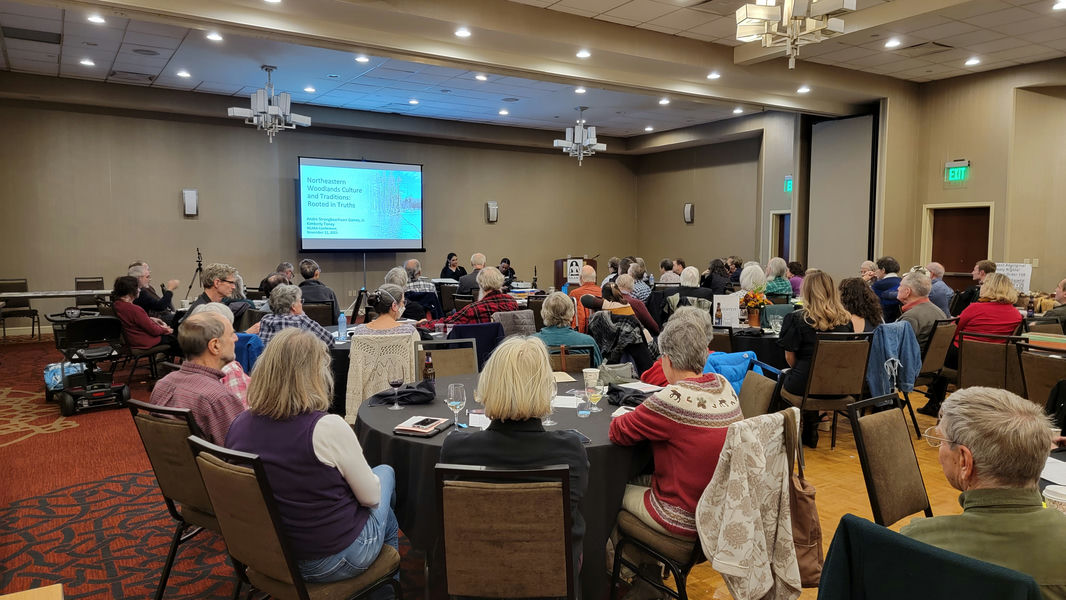 ---
Triad of Digital Technologies Investigates the Newport Tower
There was a Zoom webinar on Thursday August 24th. View the video:
---
New Leadership
The NEARA Board met on June 11th for its spring meeting and appointment of Board positions. The Board thanked Harvey Buford for his significant contributions to NEARA over many years and appointed former Director at Large Anne Marie Kittredge to serve as NEARA President until a vote of the membership in Spring 2024.
NEARA members may know Anne Marie as the editor of the NEARA Journal and from the site tours she led in Western Massachusetts for the Fall 2022 Conference in Brattleboro VT. Before retiring, Anne Marie was a wildlife forester with the Massachusetts Division of Fisheries and Wildlife.
A big NEARA thank you goes out to Dyane Plunkett who served as Treasurer, Teresa Bierce who served as Secretary (but who continues as Membership Committee chair and Transit editor), Sarah Kohler who chaired the Preservation Committee, Lee Shoemaker who was chapter coordinator for Pennsylvania, and Fred Martin who served as a Director at Large. Thank you all for your dedicated service!
Rob Buchanan is our new Treasurer, and Walter van Roggen is our new Secretary. Newly appointed Directors at Large are Mike Luoma and John Waltz, who will fill out the terms of Anne Marie Kittredge and Rob Buchanan.
The current membership of the board is at Board of Directors.
---
Current NEARA Transit
This issue of NEARA's newsletter includes these articles:
Combining LiDAR's Above Ground Features with GPR's Below Ground Anomalies -- Tom Elmore
The Editor's Desk -- Teresa Bierce
President's Message -- Harvey Buford
2022 NEARA Fall Conference in Brattleboro VT, The Latchis Theater & Hotel Experience -- Betsy Brewster
Lehigh Valley Watershed Conference, Easton & Bethlehem PA -- Jim Wilson
In Memoriam David Connelly -- Norman Muller
Pennsylvania -- Lee Shoemaker
Rhode Island -- Dyane Plunkett
Massachusetts -- Peter Anick
New York -- Gerry McLoughlin, Donna Savino
New Jersey -- Nancy Hunt
A NEARA Field Trip in Southeastern Vermont and a Possible Stone Feature Theory -- Mike Luoma
A Solar Alignment Site in Connecticut Part 2 - Three Hawks -- Chris Loughlin
Library and Archives -- Walter van Roggen
Membership -- Teresa Bierce
Research and Special Projects -- Gary Alicandro
Preservation -- Sarah Kohler
Terraced Landscapes -- Norman Muller
If you are a member on our email list, you have already received a copy of this issue by email.

NEARA members can receive the latest NEARA Journals and NEARA Transit newsletters electronically or in printed form.
---
NEARA Spring 2023 Conference
The spring conference occurred from April 28th to April 30th at the Best Western Inn at Hunt's Landing in Matamoras PA, along the Delaware River. View the videos and see the photos at: the Spring 2023 Conference.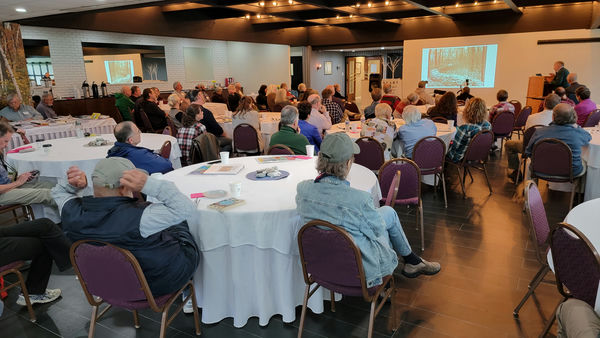 ---
3D Petroglyph Models
3D models are available for interactive viewing, in Maine, Massachusetts, and Rhode Island.
---
NEARA at Lehigh Valley events
By Jim Wilson
NEARA helped sponsor four community events in Pennsylvania's Lehigh Valley in mid-March: at the Lehigh Valley Watershed Conference in Bethlehem PA, and the Nature Nurture Center in Easton PA. In addition to NEARA's $1500 sponsorship, NEARA volunteers from PA, NJ, CT and RI helped plan and deliver these public programs and engaged with the many folks who stopped by NEARA's sponsorship table at each of the two venues where the four events were held on March 11-14. In total, about 300 people attended these four events and had access to NEARA's sponsorship table at all of them. Dozens of email addresses were collected and lots of NEARA literature were freely taken, including our spring conference registration materials.
NEARA's sponsorship helped pay expenses for speakers to attend the events and address constructed cultural landscapes, the use of archaeology for land conservation with Indigenous tribes, and present a film screening and roundtable discussion about the award winning documentary, "The Water Gap: Return to the Homeland". The film screening and roundtable was led by the Choctaw filmmaker and three young Delaware women, who were teenagers when the film was made in 2016.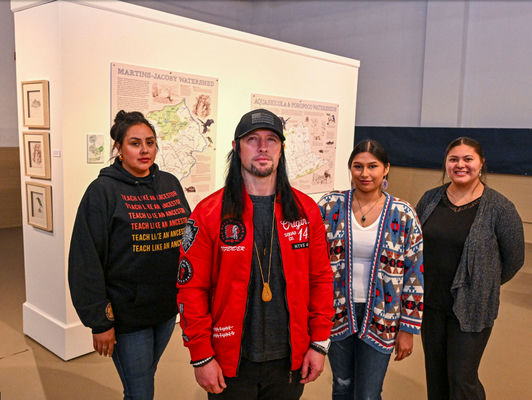 The land conservation talk and the cultural landscapes program were presented by Dr. Julia King, Anthropology Chair, St. Mary's College of Maryland.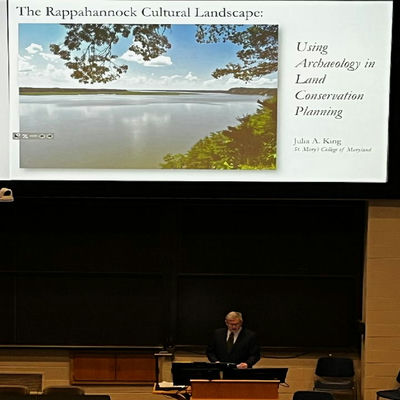 Jim Wilson presented two illustrated programs on constructed stone landscapes during these events, which were sponsored as in-kind contributions by Jim's employer, Northampton County Parks and Recreation.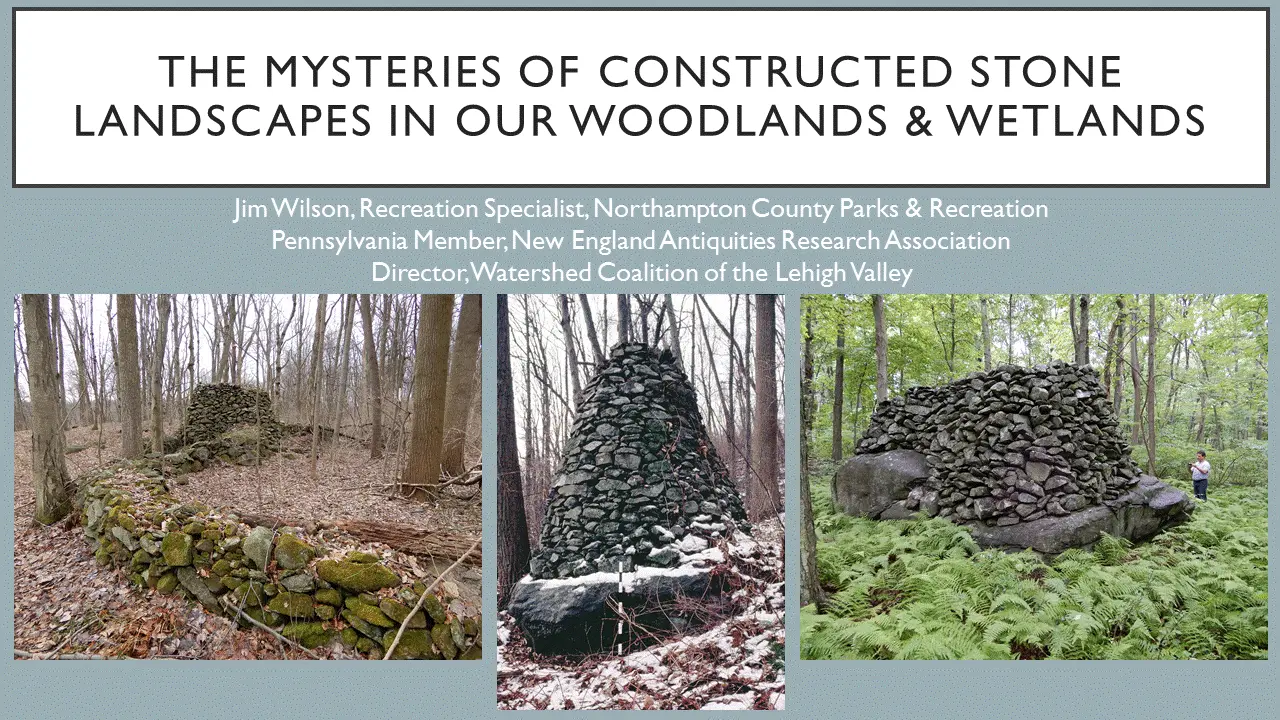 ---
Documenting Constructed Stone Landscapes in Eastern Pennsylvania
Jim Wilson contributed an article to the Pennsylvania SHPO's annual report on archaeological site reporting activities. The article starts on page 14. Other interesting articles are in the document, too.
Pennsylvania Archaeological Site Survey 2022
---
Current NEARA Journal
This issue of NEARA's journal includes these articles:
Beyond the Iconic Stone Wall -- James Gage
An Introduction to the Drystone Wall Building Styles of the British Isles -- Nick Aitken
Spirit Rocks of Cape Ann: Part II -- Mary Ellen Lepionka
My Turn -- Anne Marie Kittredge
NEARA members can receive the latest NEARA Journals and NEARA Transit newsletters electronically or in printed form.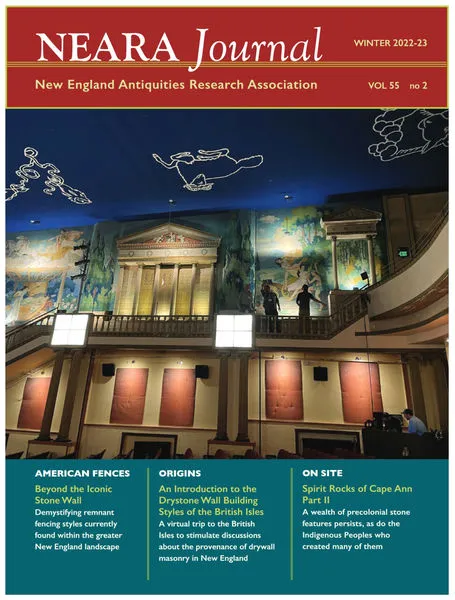 ---
Larry Harrop's Ceremonial Stone Landscapes
We are in the midst of hosting the contents of Larry Harrop's old web site showing examples of different kinds of stone structures. You can see what we have so far at: Larry Harrop's web site.

---
Norman Muller Articles
Norman Muller has graciously agreed to let NEARA host all of his articles. Read them all here at Norman Muller's articles.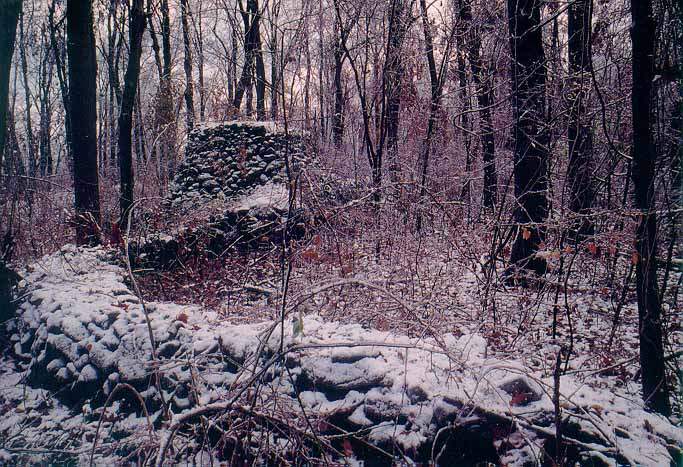 ---
The NEARA Library is Open again!
We are pleased to announce that we are entertaining visitors again to the NEARA Library and Archives in Nashua NH.
But you can still visit us online. Our online catalog is at NEARA Library. To borrow a book or video you must be a current member of NEARA.
With the move of the Library to its new location, we have been finding a lot of duplicate books that the Library cannot really afford to keep any more. See the complete list at NEARA Library books for sale. Note: this list is changing, so you may want to come back every week. You do not need to be a member of NEARA to purchase books.
If you are a member of NEARA, you can see photos and some archived documents and photos at SiteDB.org. See how sites and people(!) looked like back in the 1960's - 1980's. Also, as a member of NEARA, you can read all of the Journals and Transits that NEARA has ever published.
Read more about the NEARA Library and Archives.
---
Finding Meaning in Stone
Hannah Harvey of the Pennsylvania State Historic Preservation Office blogged about Finding Meaning in Stone.
---
Looking for nice photos
Want to contribute photos for our Gallery? Send us a few really good photos that you have taken. Email them to sites@neara.org. Please include a short caption, including the county and state in which you took the photo, the date you took the photo, and the name you would like to include in the caption.
---
Donations
NEARA has joined PayPal's Giving Fund so that any money that you donate to NEARA will get to us without any fees subtracted.
Please help us fund our research projects and preservation efforts and library and archives at: Donate.