Library Book Sale
NEARA is grateful to the many donors of books and videos that we have acquired over the years. See our listings at: NEARA.Library. Those donations have resulted in a wide variety of interesting titles, reflecting the eclectic interests of NEARA members.
The donations have also resulted in many duplicate titles and in the acquisition of books that are sometimes not completely aligned with NEARA's principal interests. With our move to a more affordable but smaller location, we find we do not have room for everything that we have. Hence we are offering for sale hundreds of duplicate books and books that are not central to our interests, some sets of glossy magazines, and hundreds of USGS topographic maps.
Currently available are (1) books and videos and (3) topographic maps.
1. Books and Videos
View our complete collection of books for sale online at: Books for Sale.
NOTE: this collection changes frequently, so look often for the newest listings and the latest information.
Geology
We have many titles on geology: Geology.
As with other categories, there are many interesting books that are available. Included are many reports on specific locations in the northeast, or on specific topics such as:
Of Interest
2. Magazines
Although the library in Nashua NH is closer to NEARA members than when it was in Concord NH, for many people it's still too far for a casual visit. So we have decided to deaccession our collections of glossy magazines. We are still keeping the newsletters and bulletins of various archaeological societies in our archives.
The following magazines are all sold out. Sorry.
Archaeology Magazine 1959-2017

(sold)

Biblical Archaeology Review 1979-2017

(sold)

Archaeology Odyssey Magazine 1998-2005

(sold)

American Archaeology Magazine 1997-2018

(sold)

Current World Archaeology 2008-2017

(sold)
3. USGS Topographic Maps
The cartographic world converted to digital years ago. You can view USGS topographic maps online at: USGS TopoView. It shows both historical maps, such as the ones NEARA has, as well as current maps.
It is also possible to buy maps online, both newly printed ones from the USGS as well as old maps from private sellers. Here is one example from eBay: eBay USGS topo map 1894 Hawley quadrangle MA-VT
Despite everyone using digital maps these days, there's still something special about large paper maps. Many of our USGS maps date from the 1890's.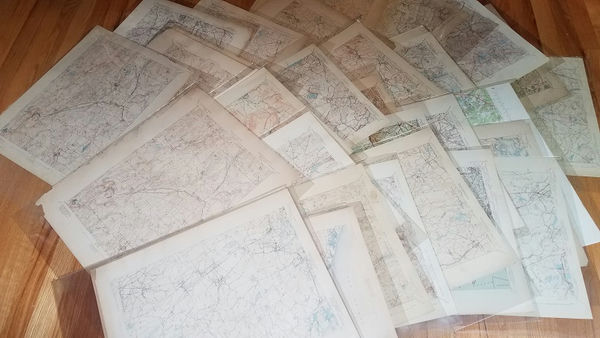 Each of our older maps is protected in an individual clear plastic sleeve. All have been stored flat in large boxes.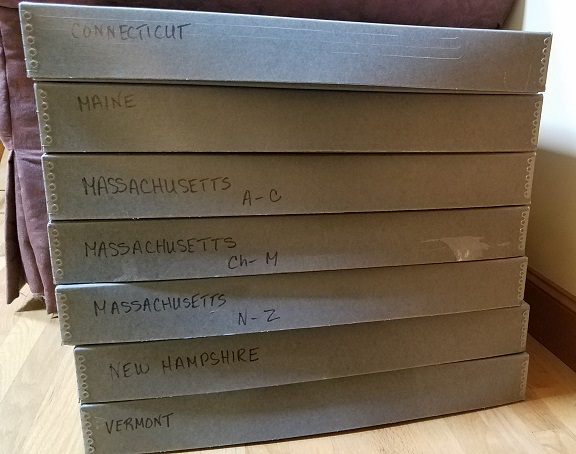 At the time of this writing there are 463 maps available. The distribution is CT: 54, ME: 11, MA: 242, NH: 90, VT: 66. For some popular areas we have multiple copies available. We are keeping all maps that have interesting markings on them -- those have already been withdrawn and stored at the archives.
Rather than trying to sell these maps individually, we are hoping to find someone willing to sell them online. Alternatively, it would be nice to find someone willing to buy the whole collection. Contact the NEARA Librarian if you have a proposal or some suggestions.